Video Tutorial
Text Version
Please do the following to work with Content, Sections and Shortcodes:
In WordPress administration Add a New Page and Save it. (1-2)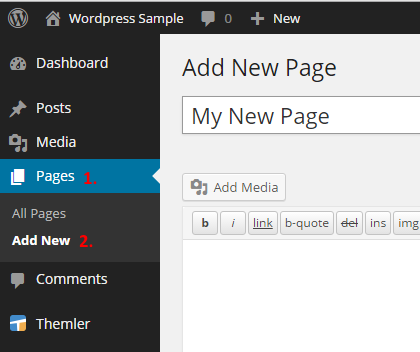 In Themler navigate to the new Page. (3-4)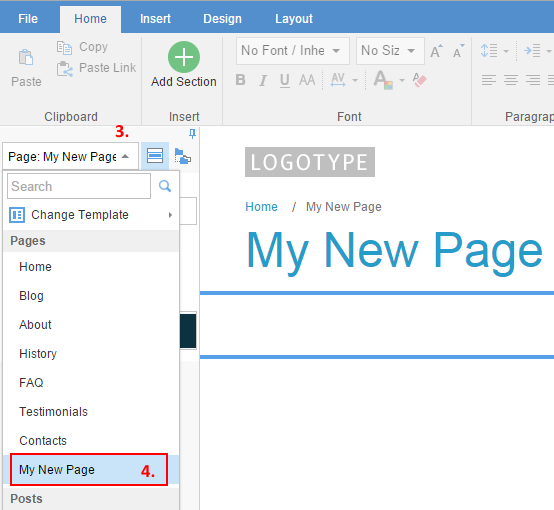 Add a Content Section. (5)

Save changes and go back to WordPress administration: (6-7)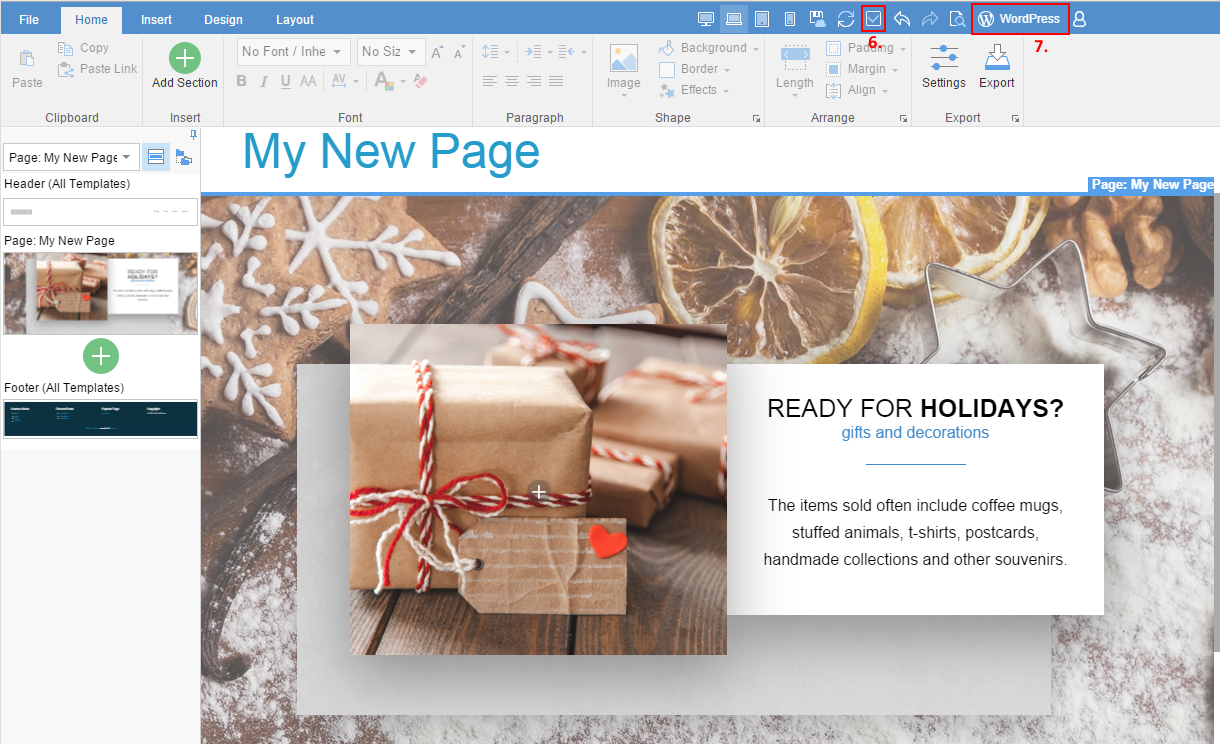 Open the page containing Section's shortcodes. (You may make further changes in the shortcodes if needed.) Update Page. (8-9)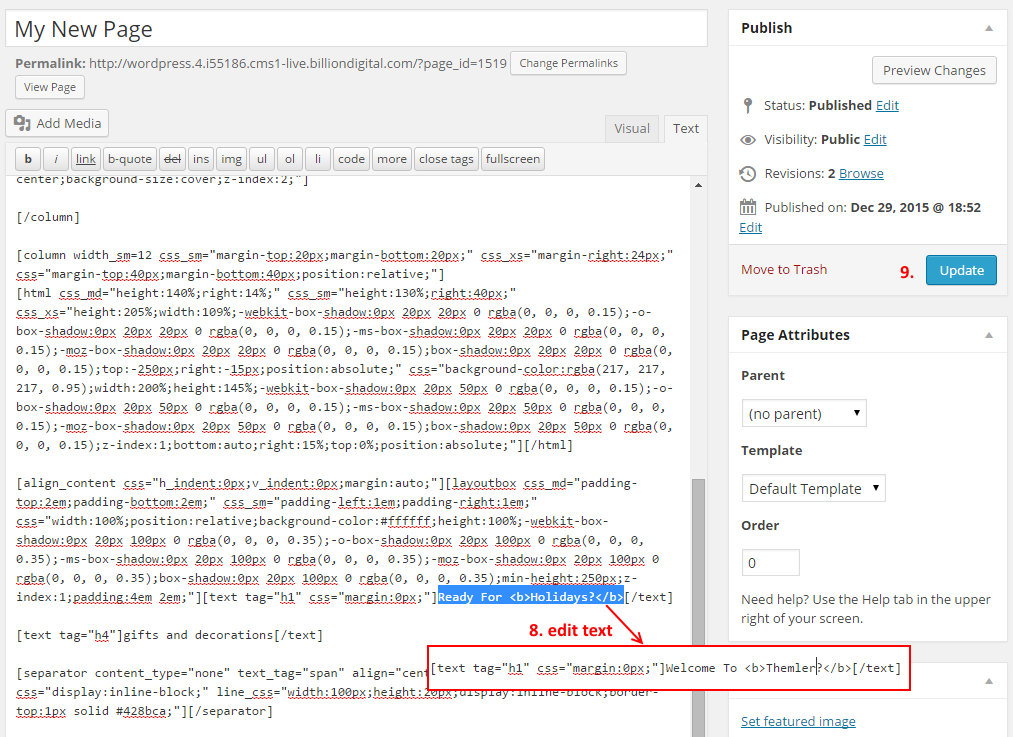 Themler's Content Editor allows editing the content directly in CMS. The changes made both in Themer and CMS are synchronized.
6.View the page in Browser. (6)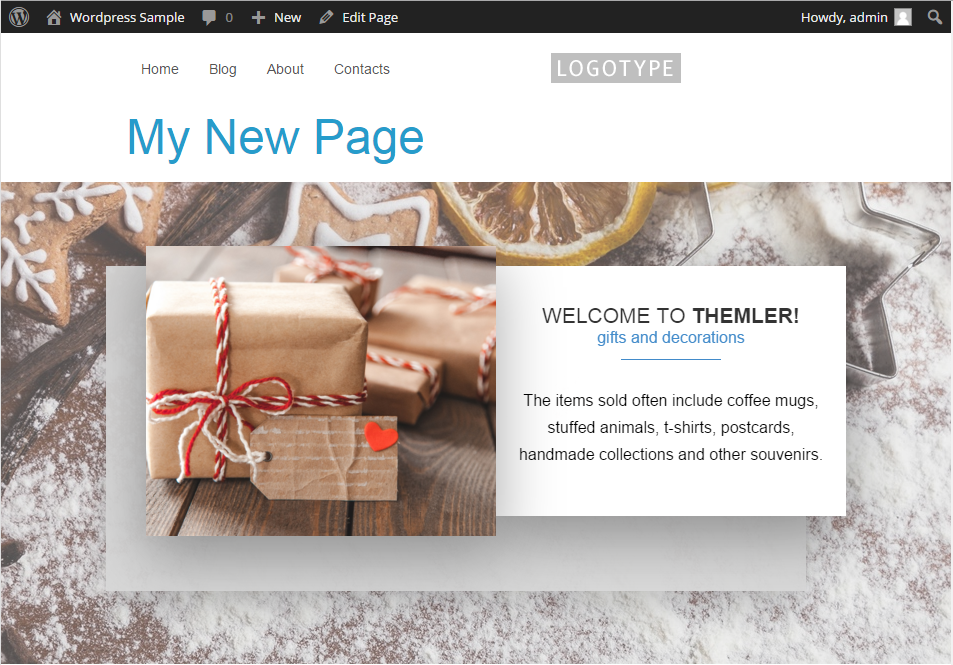 ###Video Tutorial <iframe width="853" height="480" src="https://www.youtube.com/embed/be5zUafikAw?rel=0" frameborder="0" allowfullscreen></iframe> ###Text Version Please do the following to work with Content, Sections and Shortcodes: 1. In WordPress administration Add a New Page and Save it. (1-2) ![][1] 2. In Themler navigate to the new Page. (3-4) ![][2] 3. Add a Content Section. (5) ![enter image description here][3] 4. Save changes and go back to WordPress administration: (6-7) ![enter image description here][4] 5. Open the page containing Section's shortcodes. (You may make further changes in the shortcodes if needed.) Update Page. (8-9) ![enter image description here][5] Themler's Content Editor allows editing the content directly in CMS. The changes made both in Themer and CMS are synchronized. 6.View the page in Browser. (6) ![enter image description here][6] [1]: http://attachments.answers.billiondigital.com/959/8959/add-page-2.png [2]: http://attachments.answers.billiondigital.com/960/8960/add-page-3.png [3]: http://attachments.answers.billiondigital.com/961/8961/add-page-4.png [4]: http://attachments.answers.billiondigital.com/962/8962/add-page-5.png [5]: http://attachments.answers.billiondigital.com/965/8965/add-page-6.png [6]: http://attachments.answers.billiondigital.com/964/8964/add-page-7.png