Controls
MegaMenu
MegaMenu is a new type of the existing Horizontal menu control. This type allows to display menu subitems in columns. It needs 3 levels of menu items.
Supported for Joomla, WP, Magento, PrestaShop and HTML.
In the future updates MegaMenu will be available for Drupal. We also plan to support inserting CMS modules/widgets/banners inside megamenu items.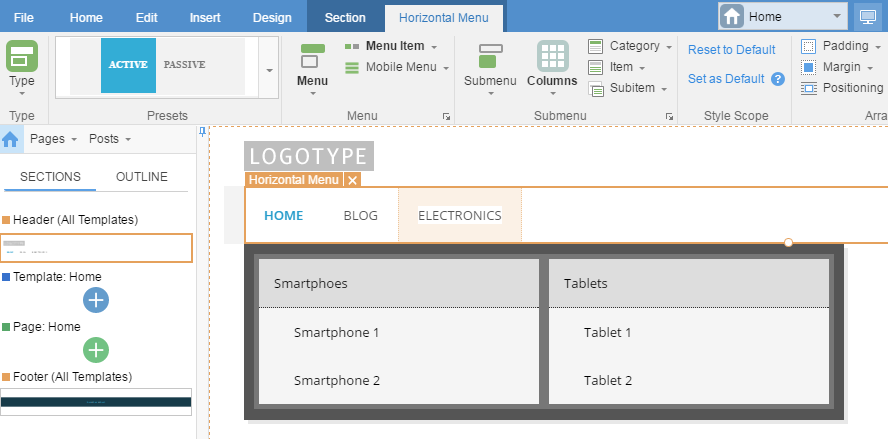 This is beta version of MegaMenu. Therefore unexpected issues are possible.
Please let us know if there are any issues or suggestions.
UI
Improved Home tab. All theme settings have been moved to the Home tab.


Added Suggest options to the Home tab (see above). The suggestions are based on the library of Sections.
Suggest Homepage - this feature uses Pages (a bunch of Content Section + Header and Footer Sections.).
Suggest Blog - this feature uses Blog Sections. This option can be used for Blog Template only. If you're using it on any other template Themler will switch the current template to Blog.

All control related settings have been moved to the Edit tab.


Improved hover and selection of controls in preview area. Now hover and selection frames match each other.

Hover & Selection before:


Hover & Selection now:

Fixes
General
Fixed layout issues that appeared in the previous update.
Fixed a few issues with "Expand to Bottom" extension.
Drupal
Improved working with Custom templates. Now if you have created a template for custom content type and added a node of the appropriate type the Custom template will display this node in Themler. Previously, Custom templates have always shown the content of the Front Page.
Joomla
Fixed issue with print icon in Joomla 3.6
A few minor fixes
Wordpress
## Controls #### **MegaMenu** [MegaMenu](page:94346) is a new type of the existing **Horizontal menu** control. This type allows to display menu subitems in columns. It needs 3 levels of menu items. Supported for **Joomla**, **WP**, **Magento**, **PrestaShop** and **HTML**. In the future updates MegaMenu will be available for Drupal. We also plan to support inserting CMS modules/widgets/banners inside megamenu items. ![enter image description here][1] This is beta version of MegaMenu. Therefore unexpected issues are possible. Please let us know if there are any issues or suggestions. ## UI - Improved **Home tab**. All theme settings have been moved to the Home tab. !new-home-tab.png! - Added **Suggest options** to the Home tab (see above). The suggestions are based on the library of Sections. **Suggest Homepage** - this feature uses Pages (a bunch of Content Section + Header and Footer Sections.). **Suggest Blog** - this feature uses Blog Sections. This option can be used for Blog Template only. If you're using it on any other template Themler will switch the current template to Blog. - All control related settings have been moved to the **Edit tab**. !new-edit-tab.png! - Improved hover and selection of controls in preview area. Now hover and selection frames match each other. - Hover & Selection before: !20svgouu.png! - Hover & Selection now: !1kq4l9zg.png! ## Fixes ### General - Fixed layout issues that appeared in the previous update. - Fixed a few issues with "Expand to Bottom" extension. #### Drupal - Improved working with Custom templates. Now if you have created a template for custom content type and added a node of the appropriate type the Custom template will display this node in Themler. Previously, Custom templates have always shown the content of the Front Page. #### Joomla - Fixed issue with print icon in Joomla 3.6 - A few minor fixes #### Wordpress - A few minor fixes [1]: http://attachments.answers.billiondigital.com/287/18287/mega-3.png [2]: http://attachments.answers.billiondigital.com/365/18365/mega-6.png